-
Wow. So many meets going on this week.
Well let me make a post about the meets that are coming up.
I have an "event" section at the top so you guys can check that out as well.
1. Skunk2's Unmeet 1.0 9-11-10 Anaheim, CA
—noun: unmeet (pronounced un•meet) —definition: a super-casual gathering of car enthusiasts.
What:
Skunk2 presents unmeet 1.0, the opposite of what the modern-day car meet has become. Today's meets and car shows have gotten too serious. Dance competitions and lingerie shows overshadow the cars. Egos and trophies take the fun out of it. Relax, leave the quick detailer at home, meet us at the park, maybe bring your car out, and enjoy the company of old friends while making new ones.
• Hang out with the guys from Skunk2 and its Honda Elite
• Bring your car…or don't. It doesn't matter
• Free food and drinks until we run out
• Cheap limited-edition T-shirts and free swag until we run out
• 4 barbeques nearby (bring your own food if you want)
• Roll in and out whenever you want (we'll probably be there around 10a.m.)
• No alcohol (park rules)
• Bring your own chairs (benches are limited)
• Kids' playground, volleyball court, horseshoes nearby
• Bring your bikes, skateboards…whatever
Who:
Everyone's invited to unmeet 1.0, including your friends, family, even your pets.
When:
Saturday, September 11, 2010
From whenever - whenever
Where:
Yorba Regional Park
7600 E. La Palma Ave.
Anaheim, CA 92807
Shelter 3
Enter through the park's main entrance and head left toward Shelter 3
Parking:
Yorba Regional Park charges $5 for parking. Parking lot 9 is right next to Shelter 3 and has approximately 30 spaces. Parking lot 10 is also nearby and has an additional 70 spaces. Additional parking is available within walking distance.
Directions:
• From the 91 freeway, take the Imperial Hwy. exit in Anaheim Hills
• Head north on Imperial Hwy. for 1/2 mile
• Turn right onto La Palma Ave, head east for 1-1/2 miles
• Yorba Regional Park main entrance on right side
• Shelter 3 and parking lots 9 and 10 located east of main entrance
For more info: http://forums.nwp4life.com/zerothread?id=11836
2. 2010 SoCal S-Chassis Car Show and Meet/cruise
There is no charge to enter. If you are in the parking lot in an S-chassis, you are entered. All we ask is that you support us buy buying some raffle tickets.
Roll in 1030am-1130am
Judging begins 12pm
trophies & raffles 130pm
cruise leaves 3pm
Trophies donated by-
Edward Jones Investments
JOHN E MEINERT
(562) 809-9580
13334 SOUTH STREET
CERRITOS, CA 90703
============================================
Special Raffle $10 per ticket
1 ticket to the Formula D skybox
includes both days,food, drinks(sodas and water. there is a private bar
upstairs if you want alcohol)
1 additional ticket will be reffled for every 15 raffle tickets sold
That's a 1 in 15 chance of winning.
tickets will also be sold outright for $150
============================================
Raffle prizes $5 ticket or 5 tickets for $20
--------------------------------------------------
Misteeno.com
Hyper rev magazines
Nismo Gt shift knob
Tomei Duracon shift knob
Greddy turbo timer
--------------------------------------------------
JER( japanese engines & racing)
free baseline dyno run
--------------------------------------------------
Godspeed
set S13 sway bars
set s13 rucas
set s13 traction arms
---------------------------------------------------
JDMCarboy
Trust GREX shift knob
300mm rear view mirror
set of NRG pedal covers
ka24de headers
Hello Kitty horn buttons
---------------------------------------------------
A1 Motorsports
S13 Megan cat back exhaust
---------------------------------------------------
SRMotorcars
free baseline dyno
---------------------------------------------------
SnapOn has a prize for the fastest lap time of the day, so make sure you turn your time sheets in to the awards desk
3. End of Summer Porsche & Exotic Car Meet
Thats right everyone, this Saturday in the City of Industry its going
down! Come hang out with the Bisimoto Crew, get down on some great food,
check out some great cars, and have a good time!!! Just because the
summer is coming to an end does not mean the fun is over: we will have
raffles all night long, food and drink specials, and a visit from the
lovely ladies of the Spearmint Rhino! Not to mention we will be graced
by the presence of the Motor Mavens staff again!
We will be
giving out our VIP passes throughout the night for access the patio area
which will be blocked off, for further information or to reserve your
VIP spot please feel free to shoot me an email: e Randy@Bisimoto.com e
4. Japanese Classic Car Show
For more info: http://www.japaneseclassiccarshow.com/
5. Longo Scion present New Dimension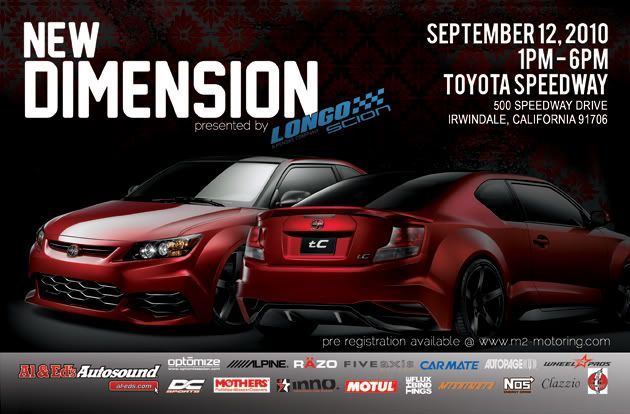 September 12 2010
Toyota/Irwindale speedway Address - 500 Speedway Drive • Irwindale, California 91706
1pm-6pm
The categories are as follows
Awards:
Best of Show
Best Team Overall
Best Team Represent
Fastest Team
Show Awards:
xA/xD - Mild 1-3
xA/xD - Wild 1-3
xB - Street 1-3
xB - Mild 1-3
xB - Wild 1-3
xB2 - Mild 1-3
xB2 - Wild 1-3
tC - Street 1-3
tC - Mild 1-3
tC - Wild 1-3
Best JDM - 1-3
Best VIP - 1-3
Best Audio/Video - 1-3
Best Engine - 1-3
Best Paint - 1
Best Vinyl - 1
Best Stance - 1-3
Drag Challenge:
xA/xB/xD 1-3 Fastest ET
xB2 - 1-3 Fastest ET
tC - 1-3 Fastest ET N/A
tC - 1-3 Fastest ET F/I
Fastest R/T overall
Fastest ET
We are also having a raffle for our event where proceeds will go to charity. The raffle tickets are $2 each or 3 tickets for $5. If you were at our event last year, the raffle prizes are EPIC. Sponsors of our event are generously donating product towards our event and the sponsors for this event are below.
Al and Eds Autosound
Mothers car care products
DC Sports
5axis designs
Mishimoto
Parle clothing
Clazzio
Motul
Scion Optimize
Alpine
Carmate
Razo
Inno Roof Racks
Flux snow board bindings
Autopage
Tokico
Wheel Pros
NOS Energy drinks
Pinkberry will also be there selling frozen yogurt and proceeds of sales will be going to charity as well!
This just in. We will have the new 2011 tC and iQ on display also for all of you that want to see it in person!
Make sure you pre reg for this event @ www.m2-motoring.com as it helps us plan or enough space for you all to be there! Thanks!!!
That's about it guys. There might be more so please leave a comment :)