Night-Import
: Photography by William Lee
---
What's crackin Night-Import fans!
Hope everyone had a great weekend like mine because I had a blast!
After our site getting some recognition and my attendance at various events in SoCal, our photographers, including me, are getting acceptances as a Media, which is always great news.
Yesterday, at Irwindale Speedway, was a huge event for many fans of drifting and rallying; Ken Block Invitational Gymkhana Grid.
What? You don't know Ken Block or Gymkhana?
Hope that video answered all your questions.
If you didn't watch the video, Gymkhana is a 'designed' course for two drivers to compete against each other, while drifting, accelerating, or doing whatever it takes to reach the finish line. It's definitely an intense ride and requires advanced skills to participate.
Most of the participants at the event yesterday were professionals and did what they do best. If you weren't at the event or didn't watch it live, you missed out!
Aside of the Gymkhana, MotorMavens created a separate show called the 'Mass Appeal Car Show' in the back area where Formula D car shows take place.
I would say the turnout was greater than Formula D, which was a plus for automotive photographers. There's much more to this event and will be separated into 3~4 parts, so sit tight and enjoy the photos.
It was early in the morning when I arrived and I saw Tony from It's JDM yO cruising around.
There's Antonio in the red jacket with the Microphone thingy, the president of MotorMavens. Once again, awesome job Antonio!
MONSTER's booth and Ken Block's Ford Fiesta.
Some Silvia's (at the corner not shown) and Supra's got a good spot.
Daijiro Yoshihara's V8 Silvia getting ready for the practice rounds.
Calvin Wan's 1993 Mazda RX-7 getting ready as well. One of my favorite cars of all time.
Tanner Foust's Ford Fiesta. Same car as Ken Block's but different specs.
The Media crew had to hear the rules, etc. and we saw the drivers being instructed before us. There's Tanner Foust, Cody Parkhouse, and Ken Block.
I should've gone up to the stands, but here's some part of the designed course. No wide angle, no wide view :(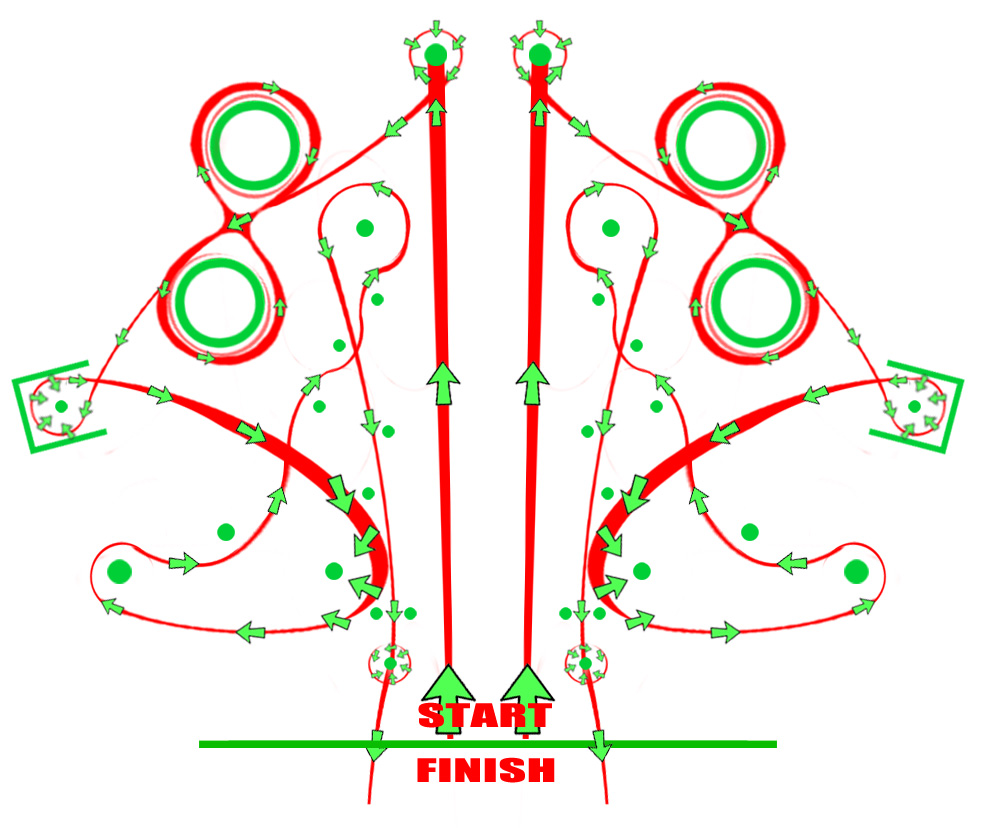 Here's the layout.
Back to the pit, here's Jeff Jones loud a$$ RX-8. Seriously, this car was REALLY loud.
Now time to check out some cars from the Mass Appeal show!
Ron's sexy truck rolling in.
CUBE and Z33 from Team SupaStar.
Haven't seen my boy Marc for a longgg time. This guy is busy going around clubs as a DJ. Sick ride, sick skills, awesome person.
Sexiest Miata ever. You guys saw the photo on facebook. Feature coming soon! (Check out an on-site feature at
JustStance
).
I have to mention this again. The most active member from Team Hybrid.
Very clean looking STI.
I've seen this classic only once during the OC Truck Meet. Such an awesome ride.
Now this is a classic.
Antonio telling the guys to leave some space between the cars. "Your asses are too tight!"
Classics were looking awesome yesterday.
I loved the wheels, but forgot the brand.
This S13 is literally messed up, but in a good way. Check out the rear fitment.
Never seen this tC. The BBS RS's looked good.
My family Low N Slow!
Josh's demon camber Y33.
Still my favorite Lexus IS.
Want a definition for Proper Fitment? Check this car out in person. You'll be amazed.
Best looking Lexus Hybrid ever!!!
I had to leave my business card on these rides. The Volk TE37SL's looked sexy on black.
Infinit Wheels rolled big like always.
Hands down, sickest looking CR-Z.
TJIN edition Camero's and a Mustang.
Sitting on Air Lift and Five Axis wheels.
Pretty unique display setup.
Something about this Silvia was calling for attention. It was really clean.
Subie on Work Emotion CR-Kai's.
Simple and Clean!
Seen this Lotus a few times.
Beast!!!
IS on some HRE wheels.
VW sitting on some BBS LM's.
Like the sticker bombed rack.
Wow. It's not common to see a RX-7 FD on Work Meisters.
Clean as it can be.
After walking around this section, I had to go into the track area to see the drivers. The coverage will continue with Part II today or tomorrow!